BLACKSAD: Under the Skin
is a narrative, choice-driven, dark adventure game set in the 1950's New York City, in the world of the comic book series
BLACKSAD
. You play as detective John Blacksad, who has to solve the murder of a boxing club owner. The game was developed by
Pendulo Studios
and
YS Interactive
, and published by
Microids
for Windows and Mac (either on
Steam
or
GOG
), as well as for PlayStation 4, Xbox One and Nintendo Switch.
I have prepared a short video about all the steps. It's up to you whether you prefer to watch or read. You can find the video on
PeerTube
and
YouTube
.
Installing via Steam
To be able to install and play BLACKSAD via Steam, you have to make sure that
Steam Play
is enabled. Check in the Steam settings under
"Steam Play"
the option
"Enable Steam Play for all other titles"
. Select the latest Proton version, to get the best support for any non-native games on Linux. Now Install the game as you would usually install a game with your Steam client.
Some BLACKSAD players reported problems related to
Esync
. To deactivate that, right click the game's entry and select
"Properties..."
, then click
"SET LAUNCH OPTIONS..."
. Enter
PROTON_NO_ESYNC=1 %command%
, click OK and close the properies.
The start the game for a short moment only. During the first start of a non-native game Steam sets up a so-called
prefix
for it - imagine it as this games own little simulated Windows sandbox. This is where the configuration and savegames are kept.
Installing via Lutris
First make sure you have downloaded the necessary files for your GOG account. The BLACKSAD setup consists of 5 files:
setup_blacksad_under_the_skin_1.0.3_11858.2878.2019122002_(34793).exe
setup_blacksad_under_the_skin_1.0.3_11858.2878.2019122002_(34793)-1.bin
setup_blacksad_under_the_skin_1.0.3_11858.2878.2019122002_(34793)-2.bin
setup_blacksad_under_the_skin_1.0.3_11858.2878.2019122002_(34793)-3.bin
setup_blacksad_under_the_skin_1.0.3_11858.2878.2019122002_(34793)-4.bin
Lutris
itself doesn't offer a premade installer, but this is not a big problem. Start by pressing the
"+"
button in the top left corner of the Lutris windows, to
"Add a new gane"
. Fill in the game's name and select
"Wine (Runs Windows games)"
as Runner. In the
"Game options"
tab fill in the location of the
"Wine prefix"
:
~/Games/Blacksad
- that's all we need here at the moment, so press
"Save"
.
Back in the Lutris main window select the newly created entry and click
"Run EXE inside wine prefix"
. In the file select dialog change to your download directory (or whereever you have saved the game files) and select the
.exe
file. and click
OK
. Wait a moment, while the prefix is created and then follow the instructions of the game's setup.
After this is finished, open the configure dialog (the
cog wheel icon
), set up the executable:
~/Games/Blacksad/drive_c/GOG Games/Blacksad Under the Skin/Blacksad.exe
and close the dialog with
"Save"
.
Installing the workaround
This step is necessary, no matter whether which way you've installed the game.
BLACKSAD has cutscenes integrated which will cause it to get stuck fully, when played via Proton or
Wine
. To handle this problem, you need to install a small workaround, which can be found at
Github
. Download the file
mf-install-master.zip
as shown on the screenshot.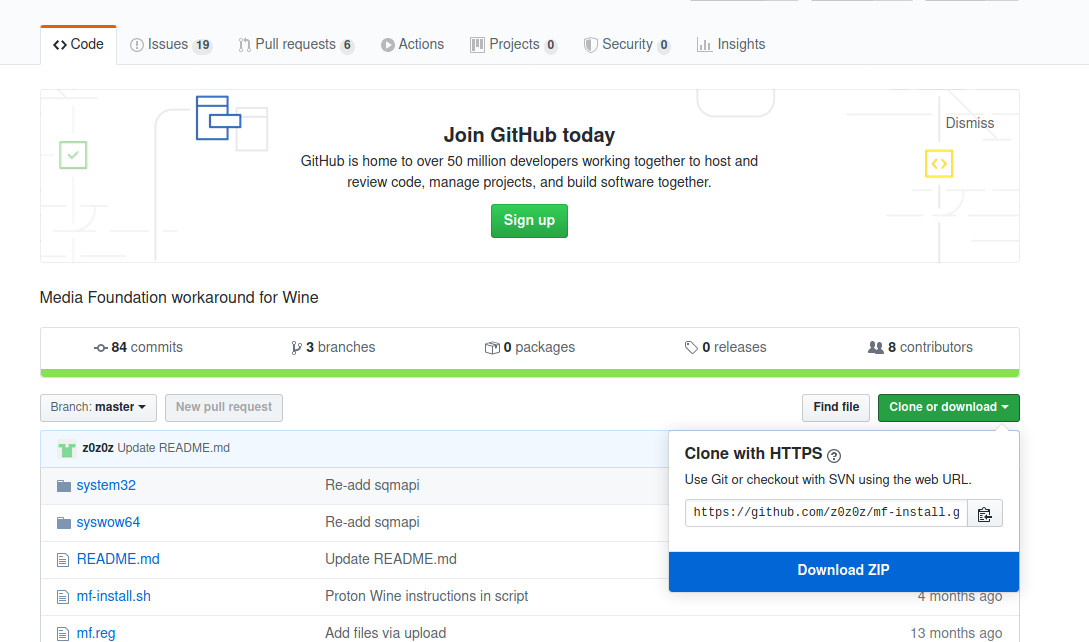 Now open a Terminal and change to your Downloads dir:
cd Downloads
Unpack the ZIP file:
unzip mf-install-master.zip
Change into the newly crated dir:
cd mf-install-master
Now install the workaround. For a Steam setup do:
WINEPREFIX=~/.steam/steam/steamapps/compatdata/1003890/pfx ./mf-install.sh
And if you have used Lutris and the DRM-free game, do:
WINEPREFIX=~/Games/Blacksad ./mf-install.sh
Now change out of the directory:
cd ..
And delete it, since you'll not need it any more:
rm -r mf-install-master
That's all! The game is now fully set up and configured. Enjoy the game!
About the author - Hatnix

Hatnix
(aka The King of Linux Gaming) is a streamer, programmer, and long time Linux user. He is not just an expert Linux user, he is also a valuable educater in the community. If you are looking to game on Linux, but don't know where to start, try his Linux Gaming Workshop:
Want to speak to him live? Hatnix streams the best adventure, roleplay, and adventure games
LIVE on Twitch
. Not only does he play awesome games, he also provides you with Linux setup tips and tricks.
More Blogs